Innovative SVG8XXX Reconfigurations & Systems
Keep Your Company On the Right "Track"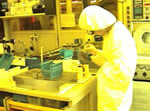 UTS Microservices delivers groundbreaking remanufacturing solutions for optimizing and customizing your SVG8XXX Coater, HMDS, Developer, and Scrubber systems. Our staff is renowned for pioneering system reconfigurations designed to decrease downtime, increase yields, and enhance your overall production capability. Our commitment to providing leading edge track service technology and effective lithography solutions will keep your company at the forefront of the semiconductor and wafer processing industry.


Inventive Engineering By Design—
Total Customer Satisfaction By Choice


UTS engineers evaluate your specific requirements and your equipment's current abilities. Based on your goals, we create and implement system improvements that exceed your expectations. All work is performed under the strictest measurements of quality control and tested repeatedly to ensure industry standards of precision, reliability, and speed are met. Our commitment to quality redesign results in SVG8XXX systems as powerful as new machines at a fraction of the price. In addition to our comprehensive remanufacturing service, we offer product support, upgrades, and a complete line of spare parts.


Each member of the UTS staff has the experience and knowledge to provide the highest quality of support and training possible. Our staff travels the world and has received international recognition for their dedication to excellence, quick response, and on-time delivery.

For more information, please complete our online request form or call us at (669) 342-7726.


Copyright � 2002 - . All rights reserved.
Webmaster