Our Products Protect Your Track System Investment—
Our Customer Service Tracks Your Needs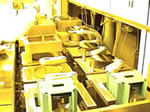 Customized UTS Microsystem 8XXX-Series systems are uniquely configured to meet your production needs. UTS engineers bring their industry expertise into every design to meet stringent quality control measures in virtually every situation from corporate environments to educational institutions.
We can partially or fully refurbish your SVG 81XX, 86XX or 88XX-series systems. Our engineers transform older systems to increase processing capability with improved contamination control, reliability, low cost of ownership, and process control.
Our company is committed to offering top quality products and services at competitive prices. We understand the importance of providing cost sensitive service to our customers. We honor a price matching policy because we're serious about gaining your business and trust. If you find a lower price, please let us know and we will do everything possible to meet or beat that price.

UTS is known for our ability to efficiently remanufacture systems at a fraction of the cost of a new machine while meeting our clients time constraints.

A Complete Stock Of Spare Parts
UTS maintains a comprehensive inventory of spare parts and assemblies for 81XX, 86XX and 88XX series track systems. We require that our spare parts meet OEM specifications and we often exceed these specifications. Even if our staff did not configure your system, we probably stock the part you require and can ship it to you fast.

Our Promise Of Reliability and Quality
Many companies promise reliability and quality, but we prove it by reinforcing our commitment to meet your design and support requirements. Our guarantee conveys our confidence in our manufacturing and support services.
Our systems come with a one-year warranty covering any defective components. All spare parts have a 90-day warranty. Our technical support engineers are trained to listen first and foremost then devise a workable solution to your problem.

For more information, please complete our online request form or call us at (669) 342-7726.


Copyright � 2002 - . All rights reserved.
Webmaster