SVG8XXX System Enhancements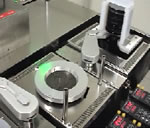 Our trained engineers will repair, upgrade, and calibrate your track system components and assemblies. Our one-on-one approach ensures your system will be running at maximum efficiency. UTS engineers evaluate your specific requirements and design system configurations to meet your current needs while preparing you for the emerging technology of the future.
We don't consider an upgrade or remanufacture complete without providing customized on/off site technical training and helpful technical support.
Repair Depot
The UTS repair depot technicians use state of the art test equipment to quickly diagnose and repair track systems on or off-site. Over 30 years of combined quality service experience ensures total customer satisfaction during each service call. We offer service contracts to our customers based on individual company needs including:



Full Service Agreements including Parts & Labor
Labor Only

Preventative Maintenance
Specialty Consulting Services
As your track system technology partner, we understand the importance of training your staff in the latest industry equipment and know-how. Put our expertise in the hands of your technicians by requesting a customized training seminar covering any aspect of track system operations or processing.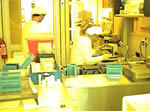 For more information, please complete our online request form or call us at (669) 342-7726.

Copyright � 2002 - . All rights reserved.
Webmaster